Second Annual Great Santa Rosa History Hunt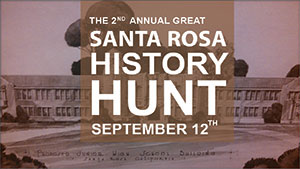 The Great Santa Rosa History Hunt began at Santa Rosa Middle School on the front steps of E Street. Contestants had a great time while learning about the history of our city. All the locations in the hunt were within walking distance of the school.
Contestants were given a list of 10 clues, each of which corresponded to a famous Santa Rosa City landmark.  At each site two volunteers, dressed in period costumes, greeted the participants.