Historical Society of Santa Rosa
Save the Date!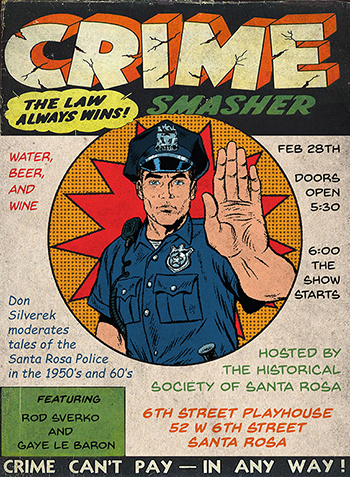 February 28th at 6:00 p.m. Another talk at the 6th Street Theater!
Tales of the Santa Rosa Police Department Past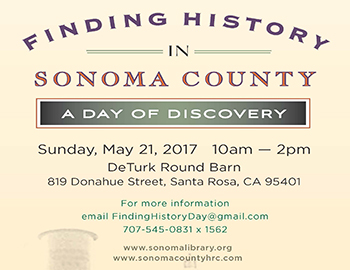 Sunday, May 21st, 2017 10:00 a.m. - 2:00 p.m. Finding History in Sonoma County: A Day of Discovery. For more information: email FindingHistoryDay@gmail.com or download this flyer!
History Movie DVDs -- Get them here!
If you are interested in obtaining a dvd of our documentary Santa Rosa: Chosen Spot of All the Earth. We would be glad to send one to you for a $20.00 donation to the Historical Society of Santa Rosa. Please send the address you would like the dvd delivered to and a check to:
Historical Society of Santa Rosa
P.O. Box 164
Santa Rosa, CA 95402
Please expect that the dvd should arrive in approximately two weeks from our receipt of the check.
Thank you, Historical Society of Santa Rosa
More info here:
Again, we would like to thank the following donors for their generosity that made making this film possible:
Donor List
Vic Trione
Bill and Suzie Friedman
Exchange Bank
Kirk Veale
Jim and Diane Keegan
Lawrence Amaturo
Anonymous
Anonymous
Jack and Judy DeMeo
Paul Wright
Bob Parker
Jim and Linda Andersen
Gary Rasche
Josh and Jeannette Grace
Message from the President
Dear Historical Society Member,
In case I have not met you at one of our events I thought it best to introduce myself. I am Staci Pastis and I was born and raised in Santa Rosa and have always had an interest in anything old. An interest in history, or the story behind a place or object, has always been a part of the way I see the world. It is, I believe, what brings us together as a community. The history of our city belongs to all of us, no matter what our background.
I am excited to take over from Mike Grace as president of the HSSR. I will strive to continue the work that Mike has done and all that he has achieved. The HSSR runs great events that highlight our history and give us a chance to learn and share the history of our city. During the spring we had very popular walks on McDonald Avenue with Kay Ward and Gaye LeBaron giving us an insight into how the famous street has developed. We hope to do the same again next spring. We also had a history walk of the SRJC again teaching us about the history and importance of this educational jewel.
This fall we plan to have an event with the Sonoma County Library Annex, where we will invite our members to come in and scan Santa Rosa related photos. We will launch our documentary on the history of Santa Rosa, which promises to be an amazing look at our city. We have a train event and the Great Santa Rosa History Hunt in October and more talks at the Sixth Street Playhouse. I hope you will join us for all those great events.
Documenting the history of our city and sharing that history would not be possible without the support of our members. I thank you for your support and encourage you to help us to grow our membership by telling friends and neighbors about us. Your membership dues are what enable us to run our events.
In celebration of all that has come before,
Staci Pastis
As always we are always looking for submissions to our newsletter, so if you have a memory of Santa Rosa that you'd like to share please send it to info@historicalsocietyofsantarosa.org, and Mike Daniels, our editor, will contact you.
If for some reason you are not getting the newsletter and frequent email blasts about our events contact us at membership@historicalsocietysantarosa.org.
— Staci Pastis, President, HSSR