Event Calendar
Deadline: Submit articles for the HSSR quarterly newsletter
11:59 pm

-
The HSSR is looking for articles to fill the pages of its newsletter. Submissions can range from research about the history of Santa Rosa and its people to personal reminiscence and anything in between. Photos accompanying text are especially welcome.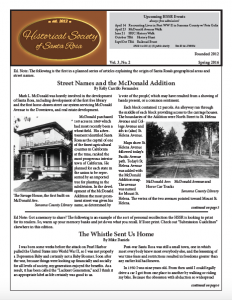 While payment is not available, writers will experience the joy of seeing their names in print and and sharing their work with a wide audience of readers. Please submit articles without anchors and in unformatted text. A length of 500 to 1,000 words is desirable.  Please submit photos separately from text but provide identity of subjects and other relevant information. Email  submissions to Newsletter@HistoricalSocietySantaRosa.org or mail them to PO Box 164, Santa Rosa, CA 95402.
All submissions are subject to editing and become the property of the HSSR. Photos physically submitted will be returned. The quarterly deadlines for submissions are March 15, June 15, September 15 and December 15.
---
Past Events…