Monthly Archives:
May 2017
The Sonoma County Genealogy Library hosted a Day of Discovery at the De Turk Round Barn where the public was invited to discover the hidden treasures in many Sonoma County historical archive collections.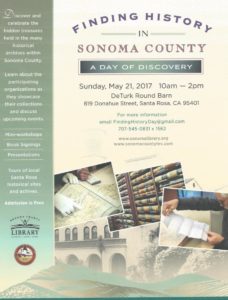 HSSR Members enjoyed a private viewing of the Sonoma County Museum exhibit:
Fighting the Great War at Home and Abroad
The exhibit showed how the war touched lives both at home and abroad.  Curator Eric Stanley spoke presenting the exhibit afterward members explored independently. The event included a hosted beverage reception.