Historical Society of Santa Rosa
The Beginning
What's New !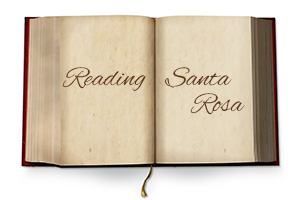 Reading Santa Rosa is a list of books and other reading materials on Santa Rosa, the place and the peoples over time.
Read now »
The idea of a historical society has been long in the incubation process but with the 150th anniversary of Santa Rosa's incorporation coming near, the time seemed right to begin putting the pieces together. In October, 2012, we called together several people interested in developing a society to gauge interest and energy in such an endeavor. It became clear almost immediately that the time was ripe and that we should continue to pursue this worthy project.
Much of what we talked about was commemorating the sesquicentennial. What is the best way to yes, celebrate but also do so in a way that was not frivolous and left plenty of room for more scholarly work.
Santa Rosa has much to study. History in Santa Rosa has always taken a backseat to development and several possible projects have lain untouched. From the Hoag House of 1856, the Fountain Grove's Round Barn and, of course, perhaps Santa Rosa's biggest historic oversight the Maria Carrillo Adobe, we have important pieces of our history strewn in fields or simply melting into the adobe from whence they came.
It will be the historical society's mission to find these projects and preserve or restore them and, of course, make the public aware of them. Our list of possibilities is long but since our first meetings with a handful of people we have added almost 100 interested folks.
The Present
Currently, we have applied for incorporation and are waiting for the paperwork to come back from the Secretary of State's office. We have created bylaws and elected a board who has met several times.
The interim board includes: David Franzman, President, Nick Tipon, Vice President, Janine Origer, Treasurer, Kelly Loyd, Secretary. Non-Officer Board: Dan and Jo Markwyn, Larry Carrillo, Rebekah Thomas, Ann Galantine, George Rothert, Judi Loyd and our attorney, David Warner, with experience at the National Archives and is a partner of Meyers/Nave in downtown Santa Rosa. Our board also includes three students from the Santa Rosa High School History Club: Sarahi Robledo, Alex Rodriguez and Jeremy Lienau.
All board positions will be up for election in October, 2013 during our annual general meeting.
Our Future
This is a very exciting time because for the first time ever Santa Rosa's history will have an official organization that will put itself into the forefront of policy makers to make sure our legacy is given the time and respect it deserves.
It will be the historical society's mission to find these projects and preserve or restore them and, of course, make the public aware of them.
We would love your help on our exciting projects and fundraisers. We hope you will join us for this journey and look forward to working with everybody who cares about our city and its past.
— David Franzman, President, HSSR