Historical Society of Santa Rosa
Great Santa Rosa
History Hunt
September 12, 2015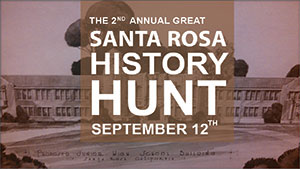 Message from the President
We are just past the half-way point through 2015 and are looking forward to our upcoming events.
This upcoming, July 16th, Allen Thomas has agreed to lead a tour of the West End Neighborhood starting at 6PM beginning at the DeTurk Round Barn located at 819 Donahue Street. We will take a leisurely walk through this historic district and learn about many of the homes and stories of their owners. Allen is very knowledgeable about the area and has done many tours of the area. There is no cost. Sign up at the event or with Staci Pastis at 332-1347 or StaciPastis@aol.com.
Our next event is our Second Annual History Hunt scheduled for September 12th starting at Santa Rosa Middle School beginning at 10 A.M. with sign-ups at 9:30 A.M. To register please see the link on this page. Last year we had over 80 people take part from 8-80 years old. It is a wonderful opportunity to learn more about your hometown get some exercise and have lots of fun with family and friends. Cost is $10 with children under 10 free.
On October 10th we will be hosting a Day at The Adobe to educate the public to the diverse history of the Adobe and demonstrate archeological research methods. There will be a clean-up from 9-11A.M., program from 1-4P.M. and a lunch-with details to be announced later. Many residents of Santa Rosa have never been to the Adobe and it will be an opportunity to see firsthand the condition of the Adobe and learn about its history and find out about some of the ideas going forward. A special session for elementary teachers will be offered in the morning. Stay tuned for further information.
Our last event will be a membership meeting in November. Tentative plans include providing scanners for members to bring photos and archival documents that we will scan and provide a copy of the scan on a disc to the owner. The HSSR will be starting to build a database of historical material online. Additional ideas include inviting a few members to set up displays of their local history materials displayed around the room. This is merely in the planning stages at present.
We are still hoping to get Congressman Thompson to speak at the 6th Street Theater as part of the Gaye LeBaron Speaker Series. We plan to work with the SC Historical Museum on their Exhibit Santa Rosa After WWII. This should prove to be an outstanding program. We are also discussing working with the History Museum on a documentary film on the History of Santa Rosa.
We have made a great deal of progress and, as you can see, we have much more planned for this year and next. Though we do provide much of our events at no cost to members we still have costs so please renew your membership and always feel welcome to send in addition donations.
See you at the next event.
Mike Grace, President
If for some reason you are not getting the newsletter and frequent email blasts about our events contact us at membership@historicalsocietysantarosa.org.
— Mike Grace, President, HSSR