Historical Society of Santa Rosa
Great Santa Rosa
History Hunt
September 12, 2015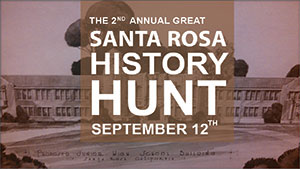 Message from the President
What an excellent start the HSSR had to 2015! Our first event was a mid-January evening at the Sonoma County Museum for a private viewing of the Hole in the Head Exhibit, led by History Curator Eric Stanley. Over 40 HSSR members enjoyed the discussion and the wine, beer and appetizers. Many of them remained afterward and chatted in groups for a half hour or so. Through hosting such events we have discovered that we are making new friends and adding members who enjoy our activities and look forward to the next one—and so are we.
At the end of February we hosted a presentation at the Sixth Street Playhouse on Neighborhood Diversity, playhouse use generously funded by Larry Bertolini and Western Farms and organized by board member Nick Tipon. Representatives from five ethnic communities— Lou Bertolini, Marie Sugiyama, George Ortiz, Jim Gray, Judy Cheung, Jack DeMeo, Nancy Wang and Kathy Dowdall--discussed coming of age and life in Santa Rosa during the 1940s and 50s in a talk moderated by Gaye LeBaron. They shared stories, both good and bad.
Once again, attendees met before and afterward to meet and talk with friends new and old. Many of them looked forward to more talks on diversity and stories of growing up in Santa Rosa, so I think we will pursue the topic. Our agenda for the rest of year will so far include a talk by Congressman Mike Thompson in August, A tour of Santa Rosa's Westside sometime in the fall, and another Historical Hunt in September. Stay posted by looking at the HSSR website for event updates. We also will send emails to society members to let them know about events.
One bit of business: If you haven't renewed your membership, please do so right away. Your participation helps us continue our events, and we thank you for your support.
I want to acknowledge and thank Gaye LeBaron for her support and participation in our Historical Talks, once as the speaker and twice as the moderator. We couldn't have succeeded without her.
As venerable board member Dan Markwyn stated recently, it feels like we have fund our "mojo" as an organization. I agree. We have worked hard to secure topics and speakers and have fun in the process. We are pursuing what we think makes sense in our events and activities, and we invite your input. Let us know what you think.
If for some reason you are not getting the newsletter and frequent email blasts about our events contact us at membership@historicalsocietysantarosa.org.
— Mike Grace, President, HSSR