Historical Society of Santa Rosa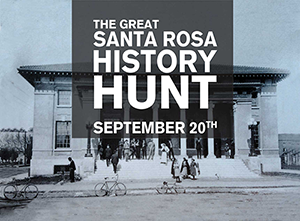 Spoiler Alert! Clues and Answers »
The HSSR has been very busy the last few months. We just received our IRS 501(c)3 status so we are a legal non-profit. The process can take as long as a year so we are happy to have it behind us. We are working on the Sesquicentennial Celebration in 2018. We are still very much involved in the process and have two very qualified board members who represent the HSSR in John Sawyer and John Bribiescas. Both have great contacts with the city of Santa Rosa and enjoy the process of working with large committees to contribute to the health of our city.
Our aim for 2014 is get out the word on the HSSR and put on a few fun events. We have three events coming up that I hope gathers strong community support. The first is the Historical Hunt scheduled for September 20th starting at 9:30 a.m. for sign-ins at the Sonoma County Museum. See our events to get more information and to sign up. The event will go from 10:00 a.m. to 2:00 p.m. The idea is that this will be an historical treasure hunt with 12 sites to be discovered based on clues given at the beginning of the event.
The next two events are Historical Talks... with a twist. Gaye LeBaron will lead off on September 24th at the 6th Street Playhouse starting at 6:00 p.m. and ending a little after 7:00 p.m... depending on audience questions and participation. The idea is to cover a given topic or era in Santa Rosa history but have a little fun, explore history with a little whimsy. Gaye will look over the 1950's and 1960's and share some insight into the making of the town and some of the characters that helped make that history. Seating is limited so RSVP to Staci Pastis at (707) 332-1347 or StaciPastis@aol.com.
The second talk will be Pete Golis and Doug Bosco examining local politics past and present on November 5th... the day after the election. They will share their knowledge and stories of the local political scene and it should prove to be a great evening. Same starting time, 6:00 p.m. We will have snacks, beer, wine and water at both talks. No admission for either talk but donations are greatly appreciated. Again, seating is limited so RSVP to Staci Pastis at (707) 332-1347 or StaciPastis@aol.com. See our events calendar for more information.
It is my hope that we show history can be fun and that people leave all three of these events with a smile on their faces and having learned something about their town. We plan to do a couple more of these talks in 2015. Show up and ask questions and share information.
It is possible that we are able to partner with the Sonoma County Museum in some shape or form in the near future and that would give us a physical address and possibly some room at the Museum. We hope to have a "Santa Rosa Room" at the Sonoma County Museum and are anxious to work with the Museum in other ways. The Sonoma County Museum will be divided into two museums in the near future: a Historical Museum of Sonoma County; and an Art Museum of Sonoma County. The History Museum will be located in the present building and the Art Museum in the Conklin Brothers building next door. We have a unique opportunity to take part in the development of the History Museum. But the people of Santa Rosa need to know that we all have to support the Museum financially or it will not succeed. I will keep you updated as these talks progress.
In addition Mike Daniels has agreed to take over the HSSR Newsletter. He has been editor of the Santa Rosa High School Foundation Newsletter for 26 years and drew raves for the quality of his work. Mike is a retired English teacher and also worked at the Press Democrat so he has a wonderful background to bring to the HSSR. If you are interested in submitting an article, please email Mike Daniels at mdaniels@sonic.net.